Location

Prague, Czech Republic
Typology

Tourism and public catering constructions
Author

Stanislav Fiala, FIALA + NĚMEC
General supplier

HINTON a.s.
Investor

Hostinec Hanspaulka
Contact

rezervace@umateje1.cz, +420 602 154 868
"Jan Fidler asked me to visit him, saying that there is beautiful space here – I told him about my intentof doing Czech cuisine and having one more special small room where I would fiddle around with my cooking, where it would be about something yeta bit different. The thing is that he, Stan Fiala, and Jan Kubíček would come to me back when I was working at Le Terroir and then at Grand Cru, and we made friends still in the roles of a guest and a chef. We started meeting more and more and got to know each other well; we clicked on the personal level. This is quite important when you do such project like this; the pub is not just mine - it belongs to fifty other people. The people need to suit one another, to be on the same wavelength. And I think that this has worked really well."
/ Jan Punčochář, chef at U Matěje pub
U Matěje
Project scope
90 seats on the ground floor; 70 seats on the first floor; 12 seats at Jan Punčochář's Table;summer terrace
ABOUT THE PROJECT
The farmstead building has been rebuilt to a residential complex, however, the reconstruction retained the original building of the pub which was then rented for the long term by a group of friends of Jan Fidler.
Under the leadership of architect Stanislav Fiala, the contemporary U Matěje pub was created. In spite of its modern interior, it respects the history of the place.
The gastronomical concept of Jan Punčochář is built upon the Czech and Czech – Austrian cuisine, the beer on tap is Pilsner Urquell. The traditional garden district of Hanspaulka, dating back to the 1920s, is thus full of traditional references, yet it is ultimately modern.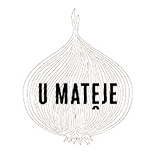 HISTORY
U Matěje pub, led by one of the most prominent contemporary Czech chefs Jan Punčochář, carries on a number of traditions.
It is located in Hendlův dvůr complex (once a farmstead), in place of an ancient tavern from the 16th century (historically documented since 1551). In 1880, Antonín Hendl founded an inn there, which maintained its popularity until the 21st century, carrying lately the name of U Matěje.